December 9th, 2013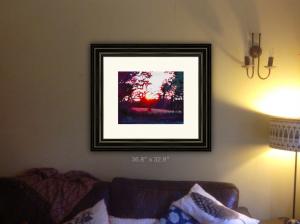 More and more of those who follow my art have been asking about the possibility of purchasing prints and, in a very small way, I have been offering these for some time but with production on a very small scale and yet proving to be fairly time consuming. It had become apparent that I needed to find a platform through which to offer this side of my business, where the production and shipping aspects were already set-up-and-running to meet internet sales in a way that best serves me and my customers.

I have to admit, broadening my approach to include prints of my work has already opened up a whole array of new options, not least the many different ways of customising art to suit your wall or budget that I am now able to offer and, if you are on the other side of the world to me then, the shipping can be far easier, slicker and more cost-effective too.

Through this fantastic portal, you can customise print options to include many different types of framing (or none at all) and print surfaces that range from a choice of seven high-quality papers through canvas and into metal and acrylic. You can even print to protective iPhone and Galaxy cases.

Cards are also available and can be tweaked to include the whole image against a black or white background or zoomed in to show a detail of the artwork – all very playful and open to personal preference.

Its the canvas prints that I am particularly impressed with as these are offered as either Museum Wrap, which is the thinner variety suitable for framing – which means the finished product can be framed to look almost identical to the original – or as deeper Gallery Wrap with thick sides which can be customised in various ways and hung without a frame. The thing that I am most thrilled about is the option for canvases to be gloss-finish, which means that the high-gloss of an oil original can be more nearly matched.

Added to that, a 30-day customer satisfaction guarantee is offered which is a reassuring touch. With any distance purchasing, there is always going to be that thought at the back of the mind wondering "is this going to look as good as I hope?" and yet the ability to zoom into the online image for a full-resolution preview, to really scrutinise the quality of the print you are getting, is an added bonus. Since I scan all of my paintings (rather than using a camera), the standard of reproduction is as good as it gets, with close attention to detail right down to the weave of the canvas!

The piece de resistance, for me, is the Fine Art America app, which can be downloaded for free from iTunes, and which allows you to try out any of my prints, framed or not, against your own wall and in amongst your furnishings (see example of a screenshot that I took using the app). This wonderful little gizmo, which is so easy to use, allows you to scale the print and any framing to the best possible size for the space and achieve a real sense of what the finished article will look like hanging on your wall, even before ordering.

I have to say, so far I am really impressed and - after a full-on week of adding around 80 pieces of art spanning 5 years of my career to this wonderful new shopping portal - I am delighted to announce that the Helen White Print Shop is now launched and fully-operational.

In addition to exploring this space, you can view originals and link to all the many print options via my main website using the link below.